Propecia Hair Loss Treatment

Propecia is an FDA approved, doctor prescribed hair loss treatment that comes in a pill form. Propecia is supposed to work on the back of the scalp, the vertex, but may also grow hair in the mid-scalp area. If you have a receding hair line or have lost hair in the front of your scalp, this hair growth formula will not work for you.
Side Effects of Propecia
Here's the catch when dealing with Propecia – the active ingredient, Finasteride (1mg), is known to cause sexual side effects. Finasteride's side effects include less desire for sex, problems having an erection or a decrease in the amount of semen you produce.
Let's face it, when confronted with a choice between going bald or possibly losing their ability to have an erection most men would jump at being bald. The majority of men would rather live with the bald spot and be called chrome dome and other insulting epithets than suffer the indignity of being robbed of their sex drive.
Although these side effects don't happen to every man who takes Propecia there is always the possibility. That alone could scare off a few customers.
Taking Propecia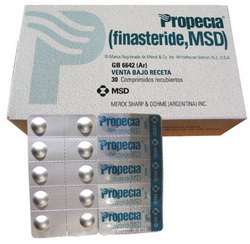 Take one Propecia pill a day. The producers advocate taking Propecia for three months but strongly suggest that you continue to take it for 12 months. This pill was designed to be used for the long term so if you stop taking it before 12 months you have a good chance of losing any hair that you have gained.
If you have no positive hair growth after taking Propecia for a 12 month period, it is unlikely that it will ever grow your hair back and you should discontinue taking it. The cost of Propecia will vary among pharmacies so you will have to do the legwork in order to find the best possible price.
In the end, it's your choice – do you want to risk the side effects associated with Propecia or do you want to research other products? You may want to ask your wife or partner; they may want to influence your decision. Consider hair loss treatments without Finasteride, like our top rated product.