Spironolactone cream

Spironolactone has been used for many years in the treatment of high blood pressure or hyper-tension; it is also works as a diuretic. Taken orally, Spironolactone has been used in treatment for hair loss for women. Some studies have shown though, that even with a high dose of 200mg a day Spironolactone does not have the desired results and can even be dangerous.
Men should stay away from orally taking Spironolactone, unless of course you want to suffer from sexual dysfunctions and breast growth. Kidding aside, you should be very proactive when researching hair growth products because you never know how or if they can harm you.
How Spironolactone works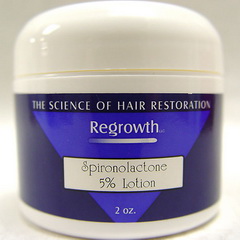 Spironolactone cream is topical and when applied to the scalp it does not affect a man's system the way the pill can. The cream reduces the amount of DHT in the scalp (DHT causes hair loss) and is said to prevent hair loss. The problem with Spironolactone cream is that it smells – and that is a rather large problem.
Another problem with Spironolactone cream is that there just isn't enough proof that it will work for male pattern baldness. There are some creams that were created without the smell associated with most topical Spironolactone but again the lack of scientific proof is unsettling.
Spironolactone: Final Word
As far as Spironolactone goes, it would be in your best interest to discuss this medication with your doctor and to do some internet searches on its efficacy and its side effects. Men should absolutely stay away from the pill form but if your doctor knows of a cream that has shown potential then you could give it a try. Also consider our Editor's Choice for Hair Loss Treatment for both men and women.